PANAMA CITY, Panama - For the first time in many decades, Central America, Panama and the Dominican Republic are enjoying a series of favorable economic winds that - if they don't blow it - may lead the region to a long period of prosperity.
My optimism may be somewhat influenced by the building boom I saw along the highway from Panama City's airport. Huge luxury condominiums are being built for the growing number of Americans and Latin Americans - many from Venezuela - who are buying real estate here for their retirement years, or to protect themselves from instability at home.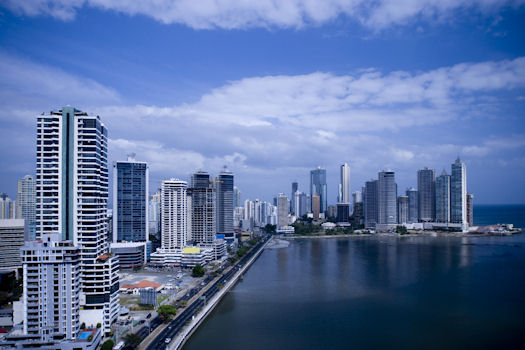 But there are other factors that bode well not only for Panama, but for the five Central American countries (El Salvador, Costa Rica, Guatemala, Honduras and Nicaragua) and the Dominican Republic. Among them:
- Panama's recent vote to start a $5.2 billion expansion of the Panama Canal will result in a huge injection of money into Panama's economy, which may spill over to some of its neighbors. Canal officials say the expansion, due to be concluded in 2014, will create up to 40,000 jobs. By 2014, the Canal is to contribute $1.3 billion a year to the nation's treasury, up from $580 million today.



- The U.S. free-trade agreement with Central America and the Dominican Republic, known as CAFTA-DR, while not yet in place in all member countries, is likely to increase the region's exports to the world's biggest market. While CAFTA-DR exports to the U.S. market rose by only 2.8 percent last year, U.S. officials say they will grow significantly this year following the removal of bureaucratic hurdles that slowed down shipments during the treaties' first months of implementation last year.



In addition, Central America is in the final stages of a free trade agreement with the 27-country European Union, which could further boost the region's overall exports.



- Family remittances from the region's migrants living in the United States reached more than $13 billion last year, and - as in the rest of Latin America - are scheduled to continue rising by an average of about 15 percent a year until at least 2010, according to a new study by the Inter-American Development Bank (IDB). Remittances are among the top income sources of several countries in the region.



- The recent U.S.-Brazilian agreement to produce sugar-cane-based ethanol in Central America and the Caribbean - with Brazilian technology and U.S. financial aid - is likely to boost several economies in the region. Thanks to existing U.S. Central American trade preferences, countries such as El Salvador will be able to export ethanol to the U.S. market without paying a 54 cents a gallon U.S. tariff on ethanol imports applied to non-Caribbean Basin producers.



- Projections that more than 100 million American baby boomers will reach retirement age over the next three decades will generate golden opportunities for Panama, Central America and the Dominican Republic, alongside Mexico, to provide low-cost healthcare services to millions of U.S. retirees.
Most economists forecast a steady rise in already sky-high U.S. healthcare and retirement-home costs, which could help Central American countries - much like Spain does in Europe - to become a magnet for northern retirees.
My opinion: Granted, Central America still has some of Latin America's worst poverty rates, and there are many other factors that could spoil the region's progress.
A bigger than expected downturn in the U.S. economy could hurt regional exports; a continued rise in gang and drug-related violence may scare away tourism and investments, and childish historic disputes among several countries in the region could delay implementation of a common market, without which individual countries' markets will be too small to attract major investments.
But if leaders in the region stay the course and allow their countries to benefit from favorable economic trends, the expanded Central American region may soon give us a surprise. It could start a period of sustained economic growth, and begin a dramatic reduction of its obscene poverty levels.
Andres Oppenheimer is a Latin America correspondent for the Miami Herald. Reach him at aoppenheimer@miamiherald.com.