PANAMA CITY, PANAMA - Sharyn and Reuben Bronstein are witnessing a building frenzy from the balcony of their 22nd-floor apartment.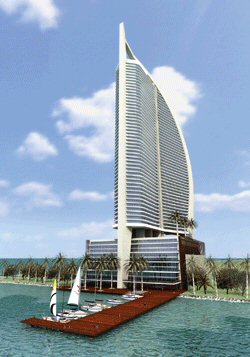 Towering cranes and more than a dozen residential skyscrapers under construction obscure the retired Houston couple's view overlooking Punta Pacifica, Panama City's hot new foreign enclave.
In one direction, Donald Trump is building a 68-story, sail-shaped edifice on the Pacific Ocean called the Trump Ocean Club International Hotel & Tower.
In another, Spanish company Grupo Mall, which is selling properties out of Houston, is putting up Los Faros de Panama, The Lighthouses of Panama, a glitzy development complete with apartments, a casino and a hotel.
At least 170 residential towers worth $3.2 billion are planned or currently under construction, according to a recent survey by real estate consultancy Prima Panama.
Fueling this boom, in part, are U.S. retirees lured by Panama's cheap health care, dollar economy and widespread use of English.
More Moving South
Between 2003 and March 2006, the Panamanian government issued 1,379 visas to Americans 55 and older, according to a report by the Washington, D.C.-based Migration Policy Institute, adding to the already growing retiree population.
In 1990, by contrast, 491 American retirees called Panama home, according to the institute.
With 78.2 million U.S. baby boomers expected to reach retirement age in the next two decades, developers and the real estate industry are counting on Panama to issue many more visas.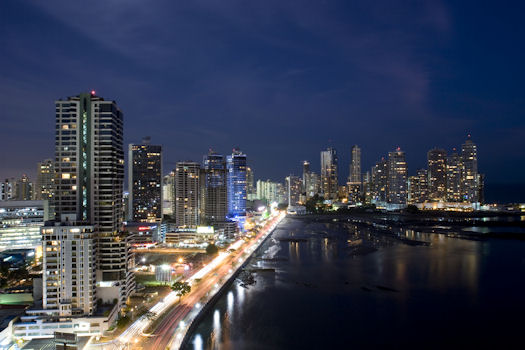 "Panama is the latest country to join this boom - and with a lot of dynamism," said Orlando Lopez, general manager of Central America for Houston-based Stewart Title, which plans to open an office in Panama City later this year.
Lopez, who's based in Costa Rica, estimates the office could guarantee $300 million in properties within a year of operation.
Other Houston-based companies are also hoping to get a piece of this market.
Houston-based AbroadEstatesgroup has the exclusive rights for the Texas market to sell homes in Grupo Mall's development, which will have three towers, the central one reaching 84 stories.
A handful of Houstonians are expected to produce down payments for units in the development, said Jose-Pablo Fernandez-Cueto, international operations officer for AbroadEstatesgroup, which also offers financing for homes in Mexico and Costa Rica.
Incentives Abound
Panamanian developers began aggressively catering to U.S. buyers, with golf courses, gated communities and American-style shopping centers, about three years ago.
Magazines and even television shows with tips for buying property abound in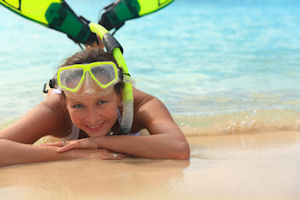 Panama. Promoters tout the nation's warm weather, flights to the U.S. and discounts for a variety of items, including movie tickets and doctor's visits.
The Panamanian government is also selling the nation, offering some exemptions on property taxes, duties for importing household goods and a car.
Such incentives seem to be at least sparking the interest of American retirees.
A Panama Marriott Hotel guest from Wisconsin recently stopped at the concierge desk to ask about the location of retirement communities. One March morning, a group of visiting Americans met with real estate agents in the lobby of the InterContinental Miramar Panama for tours of properties.
And more than 150 U.S. real estate agents recently attended Panama Spectacular, a weeklong conference providing tours of dozens of properties in Panama City and along the Pacific Ocean.
Promoting the Country
Panamanian native Xiomara Samudio, an Atlanta real estate agent and Continental Airlines flight attendant, was one of the attendees.
"I thought it was just a wonderful idea for my business to be able to visit all the developments so that I can go back and sell Panama," said Samudio, who walked barefoot on the beach at a gated community.
"As a Panamanian, I feel extremely proud that the government of Panama and all of the real estate people have done an extraordinary job promoting the country."
Though there are plenty of promotions of projects, real estate agents and interested buyers can view few completed developments for now.
Instead, they stop by fenced-in construction sites, model homes and empty Pacific Coast beaches where developers promise to build high-rise buildings and gated communities.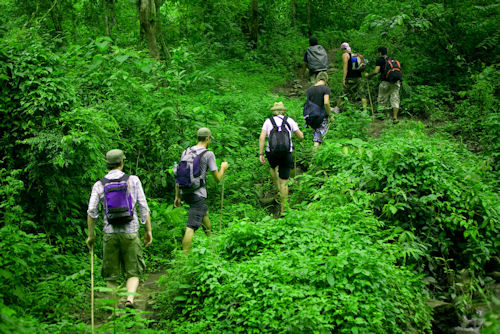 "This phenomenon right now is all about sales and beginning to get into construction," said Paul McBride, chief executive officer of Prima Panama, the real estate consultancy, which also publishes Paradise, a magazine for North American retirees. His company also offers a travel-discount program, and in 10 months it issued 3,500 memberships.
"The inventory is not going to show up for another three to six years," McBride said.
Although few properties are complete, Panamanian, European and American developers continue their plans for posh skyscrapers in the city and luxury beachfront communities in the city's suburbs.
'Fighting for resources'
"We're finding the city is getting a little bit crowded with developers," joked Jose Manuel Bern, sales director at Empresas Bern, a nearly three-decade-old developer and builder. "It seems like everybody is either a developer or a Realtor."
The pace of construction tends to delay some developments as builders cannot find enough equipment or workers.
"We're fighting for resources," said Bern, who recently described his company's high-rise and gated communities under development to the attendees of Panama Spectacular. "If you want a scaffolding today, there's not one to be had."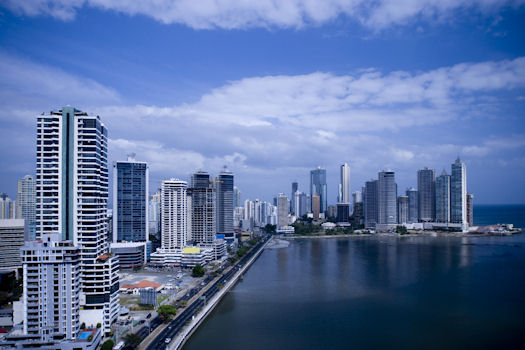 Martin Bronstein, founding principal and chairman of Houston-based commercial real estate consulting firm The Situs Cos., and his nephew, Maury Bronstein, attended the conference to learn about bringing U.S.-style lending to Panama.
It was Martin Bronstein who encouraged his brother Reuben and wife Sharyn to give Panama a look.
"For the dollar, you can get a lot more here than you can get in the States, and it makes for a nice getaway,"said Maury Bronstein, an independent management consultant.
Martin Bronstein said he is concerned about builders overestimating the size of the foreign market.
"I have concerns about it, just like anyone should be that's being cautious about financing projects," said Bronstein. "We're not cowboys in terms of our approach to business by any stretch of the imagination."