As the plane dipped down into the fog, I saw what looked like thousands of tea lights extending endlessly in a spider-web pattern. My friends had beseeched me to stick to safe havens like Cancun, but here I was, headstrong and hurtling into Mexico City.
In a country reputedly not for the faint of heart, I found the ice in my drinks the only threatening thing; here, my senses were happily assaulted daily with color, music and a culture of celebration, passion and bravado.
Still, there are reasons actress Selma Hayek was quoted as saying, "My driving abilities from Mexico have helped me get through Hollywood." My nerves won't soon forget careening through Mexico City on a bus that seemingly had no brakes.
Yet surprisingly, retirees, not young adventurers, are the largest and latest group to migrate to this fabled country in droves. What besides cool margaritas and balmy weather is so attractive about a Mexican retirement?
Casa Comforts
First of all, my Mexican vacation differs greatly from what retirees are seeking.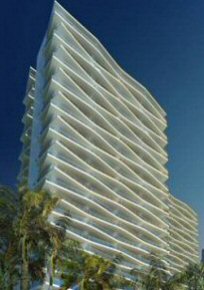 Many baby boomers in their 60s want to escape the doldrums of Florida golf-course living without leaving behind the comforts and closeness of home. In Mexico, this paradox is to be found in even the most remote places.
Computer analyst Carol Selzer and her husband Michael were vacationing in Mexico in 2004 when they unexpectedly happened upon a breathtaking house in the fishing village of Sayulita, on Mexico's West Coast. They hadn't done much research but wanted to invest in something other than the stock market. In a week they bought the house, dubbed it Casa Verde Sayulita and began renting it out. It may be a while before they see a profit, but they have already added a third bedroom and pool using some of the rental income.
Carol and Michael don't plan on retiring in Sayulita, but they like the area because it's affordable and not yet touristy, unlike the nearby hotspot of Puerto Vallarta.
Nostalgia Meets Convenience
Mexican areas targeted to baby-boomer retirement have all the amenities and comforts of home, explains Maria Lopez, sales associate at Condo Hotel Center. Plus, many locations are a short flight or drive away from the American border.
The 1994 NAFTA agreement between Canada, the U.S. and Mexico further opened the possibility of Mexico as a retirement haven. Not surprisingly, most retirees there are American (about 70%), followed by Canadians.
Howard Goakey, founder of Mexico Buyer's Guide, says Mexico draws baby boomers with its spring-break nostalgia. "As adults, they want to go back to that warm feeling of beaches and palm trees," he says.
Then there's the pricing: Most people who are priced out of beaches from Seattle to San Diego can still afford beautiful Mexican oceanfront property. In Puerto Vallarta, for instance, oceanfront condos go for around $350,000 to $450,000. And you can find attached golf, spa and fishing facilities at substantially discounted prices, because "land in Mexico is abundantly available and inexpensive, and construction costs are not as high," says Lopez. "Just about every development has a boating or golfing amenity."
Clients coming to Goakey's site are looking to spend an average of $250,000 almost exclusively for second homes and are within five years of retirement, looking to get their foot in the door now.
Financing is also safer now, says Goakey, with two major title insurance companies, Stewart (STC) and First American (FAF) , granting title insurance in U.S.-backed loans, which are highly recommended to protect your post-retirement investment.
And one of the biggest misconceptions about Mexico, says Goakey, is that health care is not up to standard. "The Mexican government has figured out that its No. 1 or 2 industry is tourism," Goakey explains. "So they're doing everything they can to protect tourists."
Many doctors are trained in the U.S., prescription drugs are available and inexpensive, and health care costs are about half of what one would expect to pay in the U.S. because the system is less crowded, Lopez adds.
Calling All Boomers
Tripp Dubois, vice president of sales for the U.S.-based KOR Group, estimates that about 50 million to 75 million baby boomers will retire to Mexico in the next 10 to 15 years. And Mexican developers are targeting this demographic with projects that have come to fruition in the last two years, says Lopez.
U.S. developer The Related Group recently announced it is going to build up to one billion dollars worth of real estate in Mexico, and the KOR Group is working on Tides Playa del Carmen, an 18-acre urban retreat to be completed in 2008.
According to the tourism office Data Tur, Playa del Carmen has had occupancy rates of over 80% over the past three years.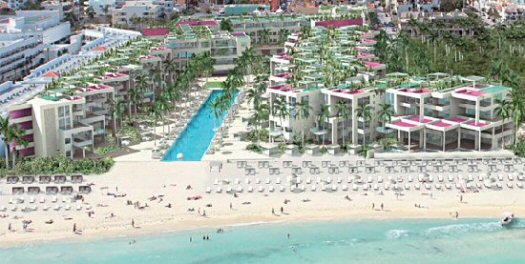 Tides Playa del Carmen
Goakey is seeing developers spend more on ads competing for the North American retiree. "It seems every party you go to you hear, 'Oh yeah, I'm thinking about Mexico,'" he says. In response to demand, his Mexico Buyer's Guide will soon come out with a updated online version, in which properties will be sorted by area and price range.
Retiring in Real Time
And for the still reluctant, there's Luma, the first American developed, full-ownership, active adult beachfront community in Nuevo Vallarta from Front Porch Development Company, set to open in summer 2009.
Luma offers residents the added security of a retirement community -- including an on-site physician and nurse, but combined with a sense of lifelong learning, adventure and spiritual growth aimed at the active senior.
Front Porch's biggest market is California, but it fields inquiries from all over the U.S. and Canada. "It's a concept that is really resonating," says senior vice president Ratte. "People want more than just real estate; they want a lifestyle."
"People our age are not going to retire the way our parents and grandparents did," says Ratte.
Though I may still prefer a brush with danger, Mexico offers, for the older and no doubt wiser, the out-of-the-ordinary with increasing creature comforts.